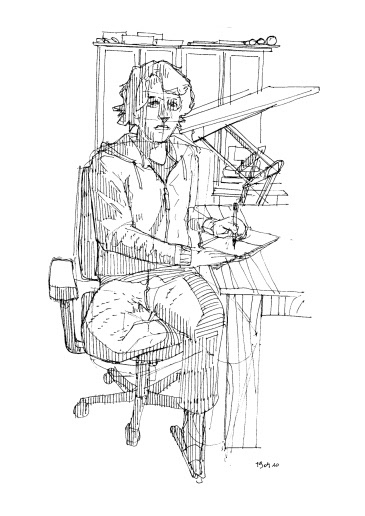 I'm a freelance-artist and architect-teacher living nearby Antwerp, Belgium. 
I graduated as an architect in 2017 with a thesis on comics. Both have been a huge influence and source of inspiration for my artistic work. Because of this my general expertise this lies in constructive drawing and perspective space.
As a self-taught illustrator I tend to get mixed up in various projects ranging between architectural-presentation-drawings to more imaginary machines and figures. I usually start out with line-art (by hand or digital) and add colours digitally. Occasionally my observational drawings also gets mixed up for an illustration for a card.
My 
observational sketching
goes back to my roots in architecture and is the main reason why I fell in love with drawing in the first place. I absolutely love to explore and draw on location in my sketchbooks. It makes me really experience places and the people around me. Over the years I started taking 
commissions, making prints
 and managed to enter several exhibitions.
Recently I started taking online classes to develop myself further in digital illustration and concept design. Besides my artistic work and learning, I have been developing the "
sketch-atlas
" project at the University of Hasselt where I also started teaching since 2019.